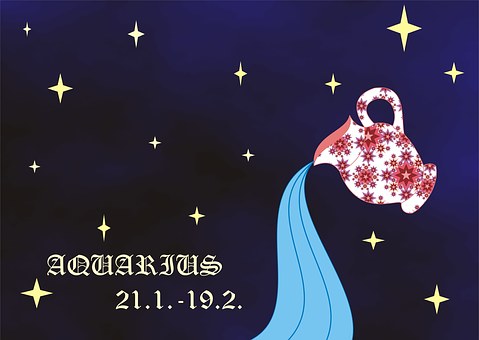 A Forecast for Aquarius February 21, 2019
A Forecast for Aquarius:
Mercury will be in Pisces until April 17, 2019. You will receive notice of some financial gains during this time.  You may also be presented with an attractive offer. You may be up for a promotion or a pay raise.  Your hard work has not gone unnoticed.
Venus will be in Capricorn until March 1, 2019.  On March 2nd, it moves to Aquarius and stays there until March 26, 2019.  You need to focus on giving yourself love and self -care during this time.  You have been giving so much to other areas/people in your life that you yourself have felt neglected.  Even though your schedule is tight, you will manage to get some me time.
Mars is now in Taurus and will be there until March 31, 2019.  There will be trouble on the home front during this time. Expect power struggles and disagreements.  Friction and conflicts will be likely.  Try to walk away before you say anything you might regret!
Jupiter will be in Sagittarius until December 2, 2019.  This will be a lucky year for you within your social life and social circle.  You will find that friends and patrons render their unselfish support to you, and this will help you a great deal.   You will also gain some new friends who will be like minded and have similar goals.
Saturn will be in Capricorn until March 22, 2019.  You may feel you are not getting enough time for yourself this year due to all of your work demands, active social life and family life.  Your often deep desire for solitude doesn't seem to be easily granted.  You may feel your time is limited and wish to free up some of your schedule.  This will happen but not as soon as you would like.
The Lunar Node will be in Cancer for the rest of the year.  This year is about hard work and focus. Although day to day work may seem mundane, be assured it will pay off. Opportunities are coming your way and you now have the confidence to take them on.  You will be going through a healing process also, either physically or emotionally.  This will be a therapeutic year and you will adapt well to a new regimen. 
Some Aspects/Important Dates:
February 25th-Mercury forms a trine to the lunar node. This marks the beginning of a new opportunity that will be presented to you from your boss or superiors.  This opportunity will be lucrative in nature and a big help to your finances if you decide to take it.  The Universe is encouraging you to take this opportunity as it will be of great financial benefit to you. 
On March 1st-Venus will form a square with Uranus.  You may encounter some meddling neighbors or family members on this day who may disturb your much-needed alone time.  You were hoping to give yourself some self- care and attention, but it looks like it will be rudely interrupted. Be careful not to have an outburst!
On March 2nd-Venus sextile Chiron.  It looks like harmony will be restored between you and your meddling neighbors/family members and you will be feeling much better. You will get at least some of that down time/self-care you were after.   A good day for healing any physical ailments. You will also be gaining some new skills that will prove valuable from a close friend or mentor. 
---