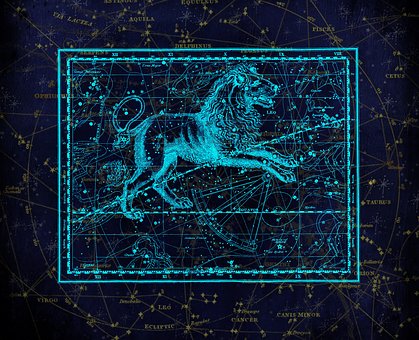 A forecast for Leo-February 20, 2019
A forecast for Leo:
Mercury is in Pisces until April 17, 2019. This puts it in the 8th house for Leo.  You will find yourself engaging in some deep conversations with several close people during this time.  These are much needed conversations and will serve as a form of talk therapy for you and those you are engaging with.  There will be some hard to process feelings and conveying them into words will prove to be challenging at times for you and the others.  None the less, these talks will be powerful and transformational. 
Venus is in Capricorn until March 1, 2019.  Then the planet moves to Aquarius on March 1st.  This puts Venus in Leo's 6th and 7th houses.  Your coworkers are turning to you right now for help and assistance. There may even be a coworker who is secretly crushing on you and wishing for more beyond your work relationship.  You will remain professional and weigh all your options.  If you are already with a partner, your partner will be extra supportive of you during this time. 
Mars is in Taurus until March 31, 2019.  This puts the planet in Leo's 10th house during this time.  There could be some power struggles within your work place. You may be extra concerned about how you are viewed among your superiors.  You have felt a close competition among a certain co-worker that threatens your rise in ranking.   You could also face a confrontation you have been avoiding with a co-worker.
Saturn is in Capricorn until March 22, 2020.  This puts the planet in Leo's 6th house for the next year and a half or so.  Day to day duties may seem mundane, and tasks may take longer then you anticipated.  Work for your superiors may seem laborious and taxing.  However, you will get the needed time away to refresh yourself.
Jupiter is in Sagittarius until December 2, 2019.  This puts Jupiter in Leo's 5th house for most of the year. The Sun will be shining on all your leisure and creative pursuits this year. You will have extra creative abilities and a chance to really display your talents.  You will be taking some sort holidays in the Sun that will be full of amusement and pleasure. You need these short get aways to renew and rejuvenate.  A lucky time for you in sports, games, and recreation in general.
The Lunar Node is in the sign of Cancer for the rest of the year, putting it in Leo's 12th house.  The Universe is telling you to keep providing unselfish service to others, as it has something to do with your destiny. Even though it may seem at times you are giving a lot (your time, advice, service) to others and not getting back as much in return, this is not really true.  Sometimes we can't see tangible rewards with our eyes but there are spiritual rewards waiting for you in your selfless giving to others who need your words of wisdom and empathy.  The sacrifices you make will not go unnoticed and the Universe will give back to you great abundance in all things.
Some Aspects/Special Dates: 
Mercury will form a square with Jupiter on February 22nd, 2019.You may be having some problems with your superiors within your workplace.  There may be some form of miscommunication, and you may be left feeling your ambitions have been slashed.  This may leave you struggling with intense feelings that you may have to internalize for now.  You may also feel your comfort zone has been shaken.
Venus will be sextile Chiron on March 2nd, 2019. You maybe taking a spiritual journey here and get some much-needed time to do some inner healing work within yourself.  You could be going to a temple or a retreat. You need time to process and feel some inner emotions you have been internalizing and this is a prime time to do it. Strong loving energy will be with you this day no matter where you are.
The Moon will form a conjunction with Mercury on March 7th, 2019. Someone may be feeling vulnerable on this day and pour their emotions out to you.  You will take the time to give them some worldly advice of yours and some of your philosophies.  Although you may feel this discussion could be taxing, this conversation may bring about a transformation for this person.
---