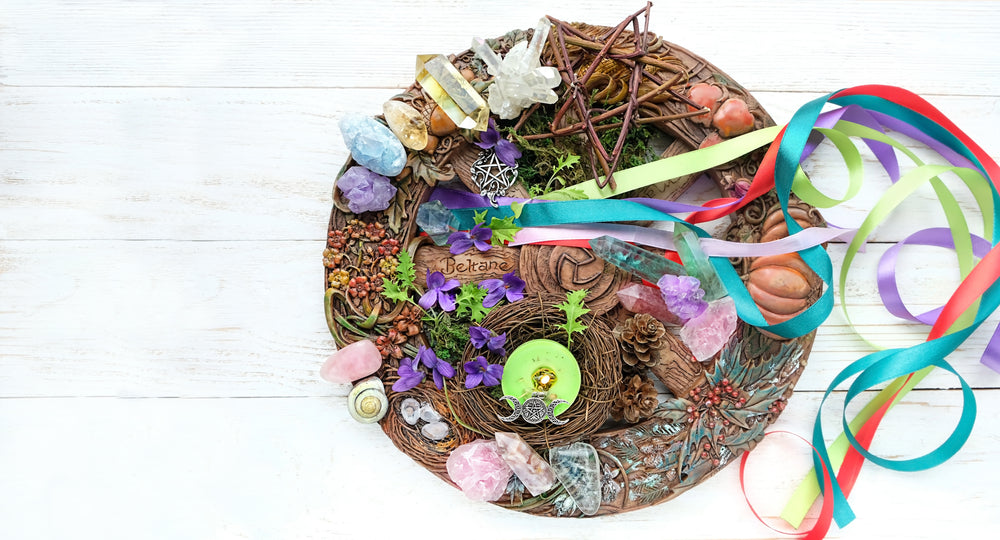 Beltane Rituals and Magical Correspondences - May 1, 2022
Beltane is the midpoint between the Spring Solstice and the Summer Solstice. It is a time to prepare for the summer season. This celebration typically pays homage to the Sun.   Bonfires are popular during this time and help you to bond with the ancient elemental power of fire.
Here are some questions you can ask yourself to help you work with the energies of Beltane:
What recreational activities would I like to engage in this Summer?
Am I planning any trips or vacations for the upcoming summer season?
How can I harness the energies and benefits of the Sun?
What am I passionate about this upcoming season?
You can also focus on your intentions, goals, and/or activities you would like to plan for upcoming summer season. There are also several rituals you can do:
Set up your Beltane Altar- focus on symbols, items, and colors that all correspond to  new life, passion, the fire element, and re-birth.
Celebrate Beltane with a Maypole Dance- This tradition has been around for a log time. It is a celebration of the fertility of the season. 
Honor the Sacred Feminine with a Goddess Ritual- use this time to celebrate the archetype of the Mother Goddess and honor your own female ancestors and friends. 
Beltane Bonfire Ritual- In this ritual, you can combine the passion of a roaring bonfire with the love of the May Queen and the God of the Forest.  This ceremony is best done in a group, demonstrating the symbolic union of the May Queen and the King of the Forest. 
Beltane Planting Rite- This ritual can be done alone or with a group. It's a simple rite that celebrates the fertility of the planting season and is performed best outdoors.  You can use pots of soil in place of a garden plot.
Beltane Magical Correspondences
Here are some magical correspondences you can work with to best harness the energies of the season. You can use some of these on your altar also if you are making one:
Symbolism: Bonfires, May pole, flower crowns, fairies, garlands.
Colors: green, pink, white, brown, red.
Crystals: sapphire, rose quartz, emerald, malachite, amber, carnelian.
Herbs: mugwort, thyme, yarrow, mint.
Foods: salads, oatmeal, lemonade, bread, honey.
For Astrological Birth Chart Readings, Forecasts,  and Metaphysical readings, see my selections in the Saged Marketplace or visit the collection here:
https://astrologybymelody.com/collections/astrological-birth-chart-readings  
---