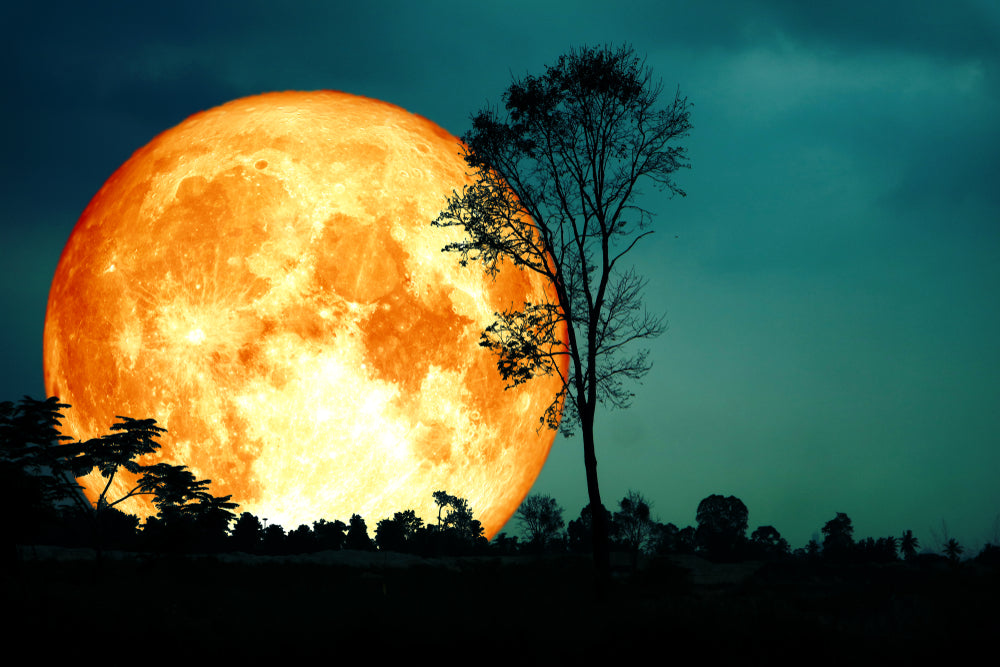 Full Harvest Moon in Aries & Astrological Moon Aspects Forecast- September 29, 2023
The energy of this Full Harvest Moon in Aries is ambitious and independent. Aries, being connected to the 1st zodiac house, asks you to focus on yourself as an individual and your own self-growth. Since this is a Full Moon, focus on reflecting on your past growth and practice gratitude for the ways you have grown.
To harness the energy of this Full Moon, you may want to ask yourself the following questions:
How have I grown as an individual?
How can I be more self-sufficient?
What do I need to release that has hindered my self-growth?
What habits should I try to let go of that hinder my ability to move forward?
What do I want to work on manifesting?
Let's take a more in depth look at the overall energies, attributes, and themes you can expect for the Full Moon in Aries, along with the major planetary aspects that the Moon will be making this day:
Moon in Aries
The energies from the Full Moon in Aries will have you expressing your feelings directly and forcefully, and it will be natural for you to take the initiative in emotional situations. You refuse to take second place right now where emotions are concerned. Freedom is important to you right now, and you will dislike any restrictions being placed upon you. It is likely you will control or dominate your domestic environment right now.  Your instincts are strong, but you can be inclined to act impulsively. Be careful, as this could get you into some trouble. 
The Sabian Symbols
The Sabian Symbols are a set of 360 mystical messages (that make up an image also), that are associated with each of the 360 degrees of the zodiac. They have also often been referred to as an Astrological oracle.  They were channeled by a clairvoyant in 1925 from the mystical Sabian brotherhood source.  
The Moon's Sabian Symbol for Aries today has the following meaning/message/vision for the overall collective:
In his dressing room, an adolescent star strikes a pose in front of a round convex mirror. Later, he wades through a flock of admirers, signing autographs as he goes.
Having a clear idea of who one is on a spiritual level; self-confidence; finding joy in self-expression; putting one's personal stamp or 'signature' on one's every action, or on one's creative work; physical appearance as a reflection of inner character; tending to one's public image without deviating from one's true self (childishly self-centered; take-it-or-leave-it attitude can turn other people off and dim one's 'shine' in the mirror of public opinion); physical beauty based on just proportions, vs. exaggerated features that are nonetheless expressive of one's inner self (artistic license-distortion as a way of showing new truths); strong drive for success (competitive; may run roughshod over rivals); exploring and expressing a new facet of one's personality.
The Moon will form an Opposition with the Sun
The energy from this aspect will have you desiring inner harmony. However, you still will feel somewhat discontented and tense. Currently, your drive for recognition can override your emotional needs and vice versa. You can expect your relationships with the opposite sex to be somewhat strained right now. You may also experience some discord between your parents.
The Moon's North Node will be sextile to Saturn
These energies will have you feeling a sense of responsibility towards the important people in your life, and you can now be relied upon to be loyal and dependable.  You may find yourself associating more with people of a wide-age difference- either older or younger, right now. You will enjoy the company of older people for their knowledge and experience, and likewise, you will appreciate your interactions with younger people for their fresh outlooks and vitality.
Harness the powers and energies of the moon and work with moon intention setting and manifestation with my "Moon Planner Journal." Order it on the Saged Marketplace or order it here:
https://astrologybymelody.com/products/moon-planner-journal-with-intention-setting-manifestation-monthly-moon-card-spreads-moon-trackers-vision-boards-to-do-lists-and-blanked-line-journal-pages  
For Astrology, Tarot, Twin-Flame, Numerology, and Metaphysical Readings, find my selections on the Saged Marketplace or visit the Collection here:
https://astrologybymelody.com/collections/astrological-birth-chart-readings    
---