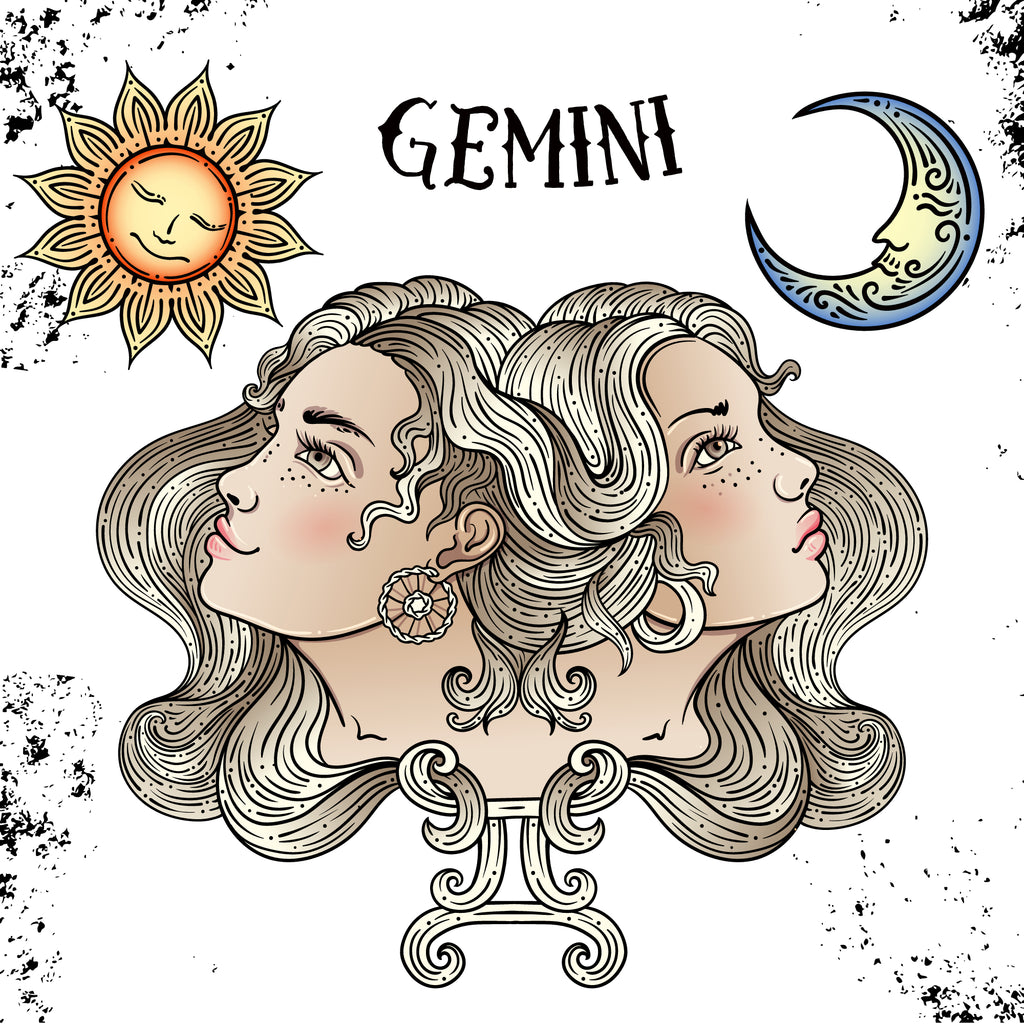 New Moon in Gemini Solar Eclipse- June 10, 2021
New Moons provide an opportune time for planning, intention setting, and looking ahead.  Under the energies of the New Moons, charging and clearing out the old and bringing in the new is a great opportunity. New Moons provide favorable conditions for manifestation. It is an ideal time to charge your crystals or make Moon water that can be charged under the New Moon.
Solar eclipses occur at the time of the New Moon, while lunar eclipses occur at the time of the Full Moon. These events amplify the energies of the specific new and full moons according to what zodiac sign they are in. Eclipses often bring about major breakthroughs, endings, new beginnings, and transformations.
Gemini is ruled by Mercury, the planet of communication, business, and commerce. When the Moon is in Gemini, it creates an opportune time for you to focus on communication, socializing, social events, and friends. It is also an ideal time to plan any short trips, as Gemini loves to travel.  Gemini is also connected to the third house of the zodiac, which is all about teaching, learning, local travel, siblings, and your immediate environment. When the New Moon is in Gemini at the same time as a Solar eclipse, all the former and latter themes are intensified.
Ask yourself the following questions to help you harness the energies of this New Moon:
What social gatherings and events would I like to plan or attend?
How can I communicate better with the important people in my life?
Are there any places of interest near me I would like to plan a trip to?
Can I help my child or someone else I know learn something new?
How can I expand my learning and knowledge?
Have I been in touch with or spent time with my siblings?
With the New Moon in Gemini, themes are duality are also brought to the surface. You may find yourself alternating between two different opinions, convictions, or viewpoints. Now may be a time to take a closer look at these alternating views and deciphering where you feel the strongest.
The New Moon in Gemini and solar eclipse may not be the best time for committed and serious love. The energy here is much lighter, flirtatious, and free in love. This is the best time for dating multiple partners and considering who seems to resonate best with you. This may not be the best time to make any serious decisions concerning love and relationships.
Multi-tasking and holding down various job titles are highlighted during this New Moon.  If you do not have multiple jobs, you may be thinking about a side job or side business. Teaching and learning environments are very favorable right now.
For your own Personalized Astrological, Birth Chart, Oracle, or Metaphysical Readings, Visit my Offerings on the Saged Marketplace, or Visit the Collection here:
https://astrologybymelody.com/collections/astrological-birth-chart-readings  
---